Merry Christmas!
Dec. 26, 2020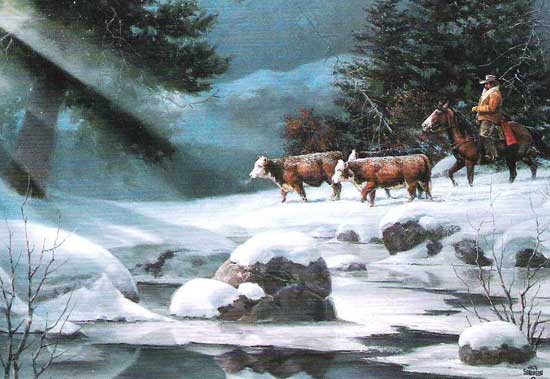 I ain't much good at prayin',
and You may not know me, Lord --
For I ain't much seen in churches,
where they preach Thy Holy Word.
But you may have observed me
out here on the lonely plains,
A-lookin' after cattle,
feelin' thankful when it rains.

Admirin' Thy great handiwork.
the miracle of the grass,
Aware of Thy kind Spirit,
in the way it comes to pass
That hired men on horseback
and the livestock that we tend
Can look up at the stars at night,
and know we've got a Friend.

So here's ol' Christmas comin' on,
remindin' us again
Of Him whose coming brought good will
into the hearts of men.
A cowboy ain't a preacher, Lord,
but if You'll hear my prayer,
I'll ask as good as we have got
for all men everywhere.

Don't let no hearts be bitter, Lord.
Don't let no child be cold.
Make easy the beds for them that's sick
and them that's weak and old.
Let kindness bless the trail we ride,
no matter what we're after,
And sorter keep us on Your side,
in tears as well as laughter.

I've seen ol' cows a-starvin' -
and it ain't no happy sight;
Please don't leave no one hungry, Lord,
on Thy Good Christmas Night --
No man, no child, no woman,
and no critter on four feet
I'll do my doggone best
to help you find 'em chuck to eat.

I'm just a sinful cowpoke, Lord --
ain't got no business prayin'
But still I hope you'll ketch a word
or two, of what I'm sayin':
We speak of Merry Christmas, Lord--
I reckon You'll agree --

There ain't no Merry Christmas
for nobody that ain't free!
So one thing more I ask You,
Lord: just help us what You can
To save some seeds of freedom
for the future Sons of Man!

S. Omar Barker

,,,

Welcome 2020
Jan. 1, 2020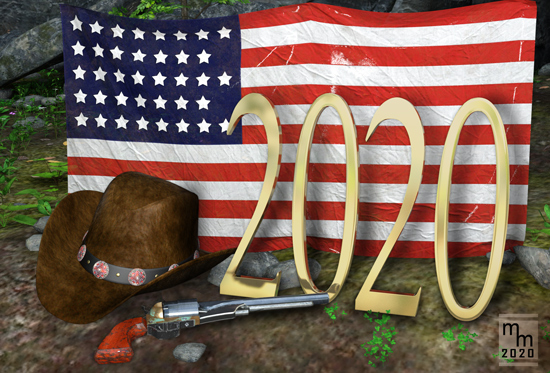 Happy New Year from all of us at Hawgleg Publishing!

,

We ain't dead, yet!
Aug. 12, 2019
Wow. If silence were golden, all of you guys would be rich.

Very, very sorry for the long absence. I'm not going to go into it, but a lot of stuff has been going on for both Murphy and myself.

But, I'm pleased to report that a silver lining is on the clouds rolling by, so yuh should be hearing more from us in the near future.

You will also be seeing some updates around the site (possibly a redesign that will make it easier for us to manage communication and ordering our products).

Talk to ya all soon!

– Mike Mitchell, Aug. 12, 2019
,

Showdowns & Shootouts Adventures Released!
Long-awaited print version of book is ready to go!
Feb. 4, 2017
Hey Saddlepals, it's yer ole buddy Paul "Mad Dog" Mauer. I'm here to tell you about a brand new book that we here at Hawgleg Publishing have put together for you. It's called Gutshot: Showdowns & Shootouts Adventures, and it's a collection of the best ideas we received during the contest of the same name we held a couple of years ago. Back then, we asked our players to send us their ideas for adventures and we picked some of them to receive some prizes. Little did we know that we would receive so many ideas from our fans. About 50 in all, if my recollection is right.
As part of the contest, we chose a dozen entries, which ranged from chases to bank robberies to an exciting solo-player game. In other words, we had a lot of great stuff to choose from so we tried to mix it up with a combination of classic adventures and daring new ideas. Everything we selected was designed to make the most of the Gutshot ruleset – and build on it. You see, in addition to providing you with maps, character sheets and detailed scenarios, we also added some new rules, vehicles and equipment to the game.
And the best part was, it was all FREE. Yup. Each of the 12 adventures was posted up on the Hawgleg website as free PDFs. And that's the way it's going to stay: The Showdowns & Shootouts adventures are online and will remain so
Well zoom forward to 2017, and that brings us to where we are today. Y'see, we thought that some of you might like to have all the winning adventures in one place, so we made a book out of them. But why stop there? So we actually made TWO books: one is in color and the other is in black & white.
Now, you might be wondering, what is in this book and why should you plunk down yer hard-earned money for something you can download for free? Well, quite frankly maybe you shouldn't. After all, these adventures are available for free download on our website (www.hawgleg.com). We did make a few changes to the book, though. We added a few maps, made a few minor updates and slightly reworded some of the new rules. Nothing major, to be honest. And then we took it over to Miss Mona's parlor and had her take a look at it to make it pretty. It's all gussied up now it's ready fer you to take home for your next round of dice slinging.
The two versions of the book are identical, except for one being in color and the other being in black & white. We ain't gonna lead yuh on: The color version ain't cheap. It's $30. That's why we made the b&w edition: It's only $20. Before ya buy it (if you do), here's the skinny on what's between the covers of Gutshot: Showdowns & Shootouts Adventures:
108 pages
8.5 x 11 inches (both versions have a full-color, laminated cover)
12 Wild West Scenarios for a variety of group sizes and players (there's even a rip-roarin' solo adventure)
154 fully Developed Characters & NPCs
3 New Specialties
2 New Vehicles
New mechanics for handling swimming and white water rapids
New templates and rules for fighting in the dark
A new equipment list
The book will be released Feb. 10-12, 2017 at OwlCon in Houston, Texas. And after that it will be available for purchase from our website. Additionally, in April (or thereabouts) we will also have a PDF version of the book available from vendors like www.drivethrurpg.com (more on that later).

So, if you decide to saddle up for adventure and buy our latest book, we hope you enjoy using it as much as we enjoyed making it.

,