The Midnight Riders Campaign
GM: Mike Mitchell


Time: 7:00 p.m., Tuesday nights
Dates: June 3 - July 29, 2003
Place: Midnight Comics & Games
13711 Westheimer, Suite Q
Houston, TX 77077
281-293-0226

Interested in starting your own gang? Contact us at: info@hawgleg.com

Posted: May 30, 2003
Updated: July 20, 2003
CAMPAIGN NAME: "Midnight Riders on the Outlaw Trail"
PLOT SUMMARY: You're a member of the "Midnight Riders," a gang of young guns aiming to make a name for themselves (and hopefully earn some hard cash) by robbing, rustling, and hustling.
CHARACTER CREATION: Players selected a Custom 1, Custom 2, or Custom 3 Character from the Gutshot Rulebook and played the same Character throughout the game, amassing cash and Victory Points to improve your skills, abilities, and notoriety.
Games were run by Mike Mitchell and Mike Murphy (creators of Gutshot), and adventures included the usual Western fare: bank robberies, prison breaks… and being hunted down by a posse of Texas Rangers!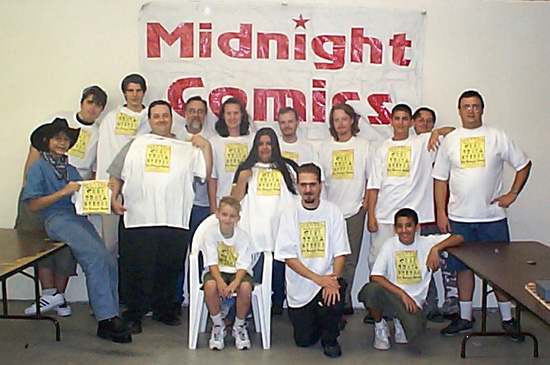 Midnight Riders on the Outlaw Trail
Chapter One: Shootout at Coyote Gulch!
Tues., June 3, 2003


Chapter Two: Bushwhacked in Beaver Creek!
Tues., June 10, 2003


Chapter Three: Bad Day at Beaver Creek!
Tues., June 17, 2003


Chapter Four: Buzzard Bait at Buzzard Point!
Tues., June 24, 2003


Chapter Five: Bloodbath in Rio Gato!
Tues., July 1, 2003
Report to come soon!


Chapter Six: Escape from Rattlesnake Bend!
(Part One)
Tues., July 8, 2003


Chapter Seven: Escape from Rattlesnake Bend!
(Part Two)
Tues., July 15, 2003


Chapter Eight: Standoff at Lobo's Lair!
Tues., July 22, 2003


Chapter Nine: Sunset on Mustang Junction!
Tues., July 29, 2003

Take a look at The Midnight Riders T-Shirt
2004: The Adventure Continues!
Chapter One: Last Stage to Pinto Flats!
Tues., Jan. 13, 2004