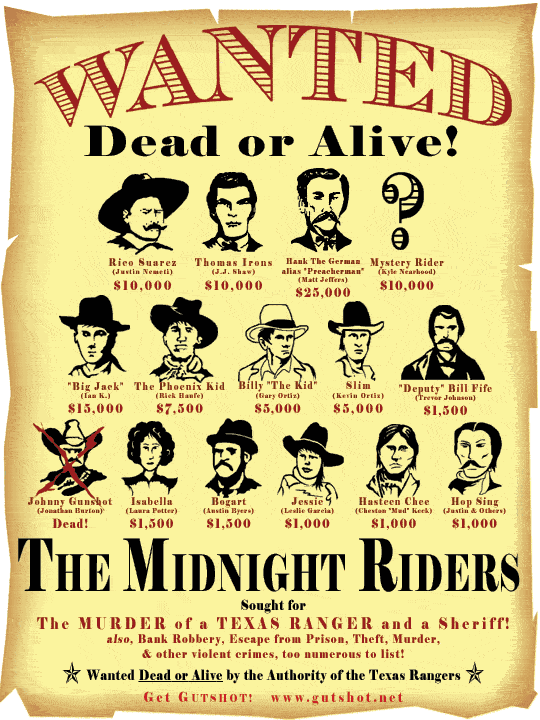 THE WANTED POSTER T-SHIRT -- The front of the T-shirt features all 15 of the notorious Midnight Riders (including HOP SING, the faithful NPC who defended them and wound up in prison when half the gang got captured by the Texas Rangers). Johnny Gunshot was killed in prison by Big Jack (Johnny G put BJ in prison in the first place). Their bounties reflect how many people they've killed, and how long they've been with the gang.
The top row features the original four gang members, with Rico Suarez, Thomas Irons, Hank the German, and the Mysterious Cord, who was never accurately identified by authorities. Big Jack and The Phoenix Kid joined in the second game, and the others joined in various games after that.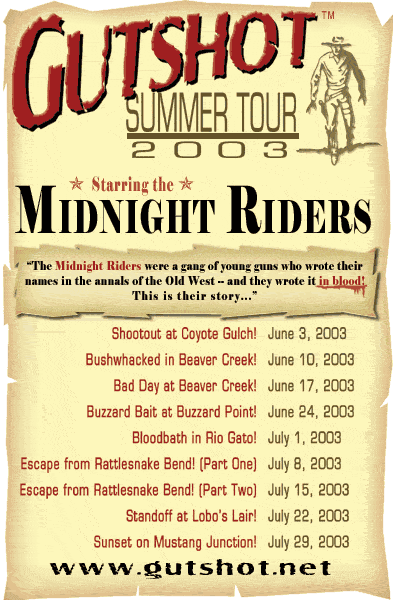 THE BACK OF THE T-SHIRT -- Inspired by various concert T-shirts, the back design features the names of the various chapters, and the dates they were played.
The shirts were designed by Mike Mitchell, who also printed out the transfers and ironed them on each shirt. These shirts are a limited edition that will not be sold or given to people who did not play in this series of games.