Our sympathies go out to his family and friends in this, their time of mourning. And our prayers go out to all politicians and lawmakers in our nation. It is our fervent wish that they pause and reflect on the life and accomplishments of Ronald Reagan, our 40th President, and that they learn from his example and aspire to the greatness he achieved.
Now, we don't normally go brining politics into this Website (after all, we're here to have fun and get away from the so-called "real world" for a while). But, we just couldn't let this pass without saying our piece.
So, here it is:
It is our frank belief that Ronald Reagan is, without doubt or qualification, is the greatest President of our lifetimes, and one of the greatest to ever hold that position in this great country of ours.
Yup, we're sad. But we're also proud to be of a generation that was of age when this man sat in the oval office. His passing will be remembered.
Reagan passed away Saturday, June 5, 2004 at the age of 93.
Read Ole Doc Murphy's latest column for more about how this man touched our lives >>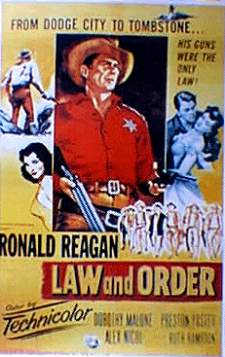 RIDIN' TALL
Our 40th President was no stranger to the Code of the West. He starred in a number of Westerns, including Law and Order, a 1953 film where he played Marshall Frame Johnson who comes out of retirement to help save Cottontown.
Original graphic above by Mike Mitchell. For more of his 3D work, visit his gallery at the Renderosity Online Community.