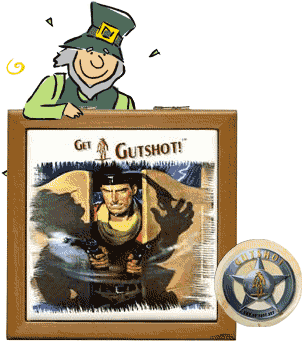 FIVE-POINT STAR
WINS OVER FOUR-LEAF CLOVER!
Ric Walters won our St. Paddy's Day drawing this year. After mulling it over, he decided to take home a "Cold Death" design tile box. He said he's gonna use it to store his poker chips and dice. We also included one of our magnet badges (both items, and more, are available in our General Store).
Register now for our next drawing in June
March 21, 2005
Plover, Wisconsin – This year the luck o' the Irish was bestowed on Ric Walters, who is the 11th luck winner of the Gutshot Online Drawing.
"The luck was also with us," said Gutshot co-creator Mike Mitchell. "In our last drawing the first winner never responded so we didn't have a winner for more than two weeks. That's when we held the second drawing that actually yielded us a winner."
As with previous contests, Ric got to pick one item of Gutshot Merchandise from the Gutshot General Store. The store carries T-shirts, baseball caps, mousepads, and other great gear that lets the world know you got Gutshot.
"Thanks so much for the opportunity to win product in your drawing," Ric said, deciding to take home the Gutshot Tile Box. "The box will be great for holding poker chips and dice."
Unfortunately, the Gutshot Core Rule Book wasn't in the prize bag. To soften the blow, just a little bit, the Gutshot Posse tossed in one of their new Gutshot Badge magnets.