March 25, 2005
Las Vegas, Nevada – Gutshot not only made a good showing at the GAMA Trade Show in Las Vegas this year, but it was picked up in quantity by the fine gamers of the Las Vegas Historicals Gaming Group.
On Sunday March 13th, members of the group met with game co-creator Mike Murphy and shared old stories, good times, and chance to get Gutshot.
"This was a good chance to meet up with some friends, and play-testers of the rules when they first came out," Mike Murphy said. "It's good to see so many people that are near and dear to me, and that have helped set this thing on it's path."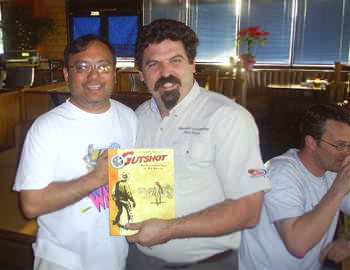 FRIENDS???
Rick SanAugustin and Matthew Babb share a copy of Gutshot while Joe Knight tries to keep quiet in the background.