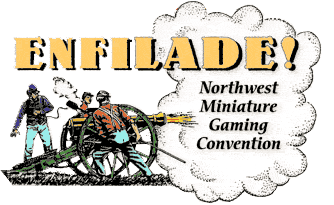 Gutshot Posse rides to Enfilade
for a "Hotz" time!
May 27, 2005
Olympia, WA – Memorial Day in the USA. School's out (for most kids, anyway) and it's time to soak up some sun, down a few beers, and of course, watch some old John Wayne war movies while appreciating the sacrifice made by the brave service men and women who gave their lives in the cause of freedom.
It's also the start of the Summer Gaming Convention Season!
This year, Hawgleg Publishing is calling in the reserves and recruiting from up in the Great White North to saddle up the manpower needed to ride to the Enfilade game convention in Olympia, Washington. The three-day gaming convention starts tonight and will run over the weekend: May 27-29.
The games will be run by two long-time friends of Gutshot: Eric Hotz is the creator of the Gold Town game and Whitewash City, a popular line of cardstock buildings for 30mm miniatures gaming. Paul Mauer is the silent third partner of Gutshot and the leader of the Proofing Posse. Together, they will run two games on Saturday.
"Actually, it was Eric who recruited us," said Gutshot co-creator Mike Mitchell. "Eric is a longtime friend of Gutshot (and I'm a big fan of his Whitewash City) and he contacted us to see if Paul could join him in Olympia for the convention. Eric said it would be nice to have someone there who knew how to play and help him run a few games."
Olympia was a bit far for Mitchell and co-creator Mike Murphy to ride this weekend, but they were more than happy to let Eric and Paul take the lead on this demo. This should be a match made in gamer heaven – Eric is an old hand at Enfilade and Paul is an old hand at Gutshot, having helped craft and refine the game over the past few years.
"I have been going to the Enfilade gaming conventions for a number of years now and I am always surprised by the quality of both gamers and game displays," Eric said. "This is a very serious bunch of miniatures wargamers. I am very excited about putting on several Wild West games at this event this year."
Paul is a newcomer to the Seattle area (about 60 miles north of Olympia) and this is his first time attending this con, but certainly not his first convention.
"I really don't 'do' a lot of conventions," Paul said, "but I've definitely slung my fair share of dice over the years and I'm looking forward to playing this weekend."

The Wild Wild West Coast
There will be two opportunities for gamers to get Gutshot this weekend, and more opportunities to immerse themselves in the Wild West.
"I will be running five games this year at Enfilade and these will be Gold Town and Gutshot. Gold Town games are scheduled for Friday evening, Saturday Morning and Sunday Morning," Eric said. "The Gutshot games are scheduled for the popular Saturday afternoon and evening time slots."
The games aren't showing up yet on the schedule at the Enfilade Website (http://www.nhmgs.org/enfilade2005.html), but Eric said they should be easy to find at the con.
Although Eric is making a relatively short trek from Canada to Washington state, in truth he'll be traveling hundreds of miles and more than a hundred years, as well. At least mentally, that is, and he wouldn't have it any other way.
"Western gun fighting always reminds me of the Sergio Leoni movies where you can see the sweat on the faces of the the antagonists and heros alike. Dry, dirty and gritty fighting, where each man counts in a fight. Skirmish gaming at it's best, with mostly single shot weapons, with no grenades or rockets. Just brutal man-to-man action. Fast, personal, primitive and a lot of fun," Eric said.

A NICE PLACE TO HANG YER HAT
Eric Hotz produces Whitewash City, an incredible (and ever-growing) line of cardstock buildings for Western miniatures gaming. The buildings are historically accurate and can be easily scaled for all miniatures from 10 mm - 54 mm. Visit his Website for more information:
(Photo courtesy of Eric Hotz)

And, he added, these are good times to be a Western gamer.

"With the release of Gutshot and Legends of the Old West, I have seen a huge surge in the popularity of the western as a viable miniatures game once again," Eric said with a smile. "I haven't seen this much attention spent towards Wild West miniatures gaming since the late 1970s and early 1980s when everyone was playing Boot Hill."

Mitchell readily agreed.

"I think Westerns are on an upswing in popularity. Shows like Deadwood and movies like Open Range and The Alamo are just signs that that all of North America is getting the Wild West bug again."
Gold Town debuts in the USA
In addition to Wild West gunfighting with Gutshot, gamers will also have a rare opportunity to join Eric for the US debut of his new game, Gold Town.
"I will be putting on Gold Town games, which is something no one, with the exception of one American (this individual won the game he played!) who played at Trumpeter Salute 2005 (our convention up here in Canada) last March, has played or seen before. Gold Town is a very unique 3D board game, which I am sure many people will enjoy," Eric said, adding that as a special bonus he would be offering prize support for the games. "I will be giving away prizes of Whitewash City and Gold Town!"
Hawgleg Publishing will also be providing prizes to the winners of the popular "Last Man Standing" Gutshot adventure.
"This is really a primal game," Mitchell said. "If it moves, shoot it! Even though it's light on plot, this is a great introduction to the game's combat system and it's also a lot of fun."
Prizes will include Gutshot Steins and, for runners up, the new Gutshot badges and magnets. These are all available at the Gutshot General Store.

"I can't thank Eric enough for taking the initiative to run Gutshot at Enfilade. This is really a rare treat when someone does something this wonderful for you. There is no way we could have made it to Enfilade this year without his help, and we're very grateful," Mitchell said.

He also added quick praise for Paul.

"Paul is always such a trooper that it's sometimes easy to overlook things like pulling all-nighter proofing sessions to help us get the book to the printers on time," Mitchell said. "But I really appreciate him making the drive and giving up part of his holiday weekend to help spread the word about Gutshot. Thanks, man!"


WE DON'T GOTTA SHOW YOU NO STINKING BADGES!
Hawgleg Publishing will provide prizes that include Gutshot Steins and, for runners up, the new Game Marshal badges and magnets. These are all available at the Gutshot General Store. Eric Hotz will also be providing CDs with Whitewash City models and for his new game, Gold Town.

All games are open to the public, although pre-registration is encouraged to ensure that you get a seat at the table. All supplies will be provided, including miniatures, terrain, dice, and so on. For more information about the convention, visit the con's Website.