<< Back to News
Little Wars Game Report Updated
Colonel's Daughter tries to run off with Yankee Cattle Thief

Posse thwarts young lovers!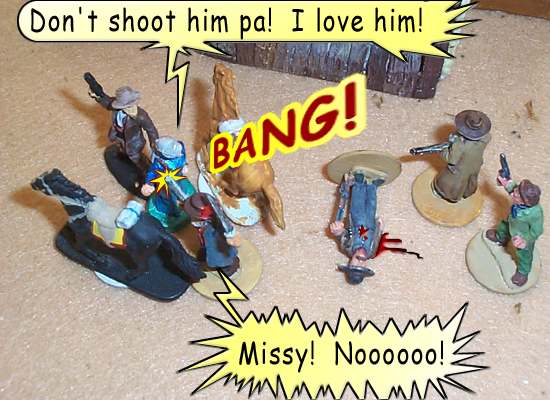 BULLETS ARE BLIND!
The Colonel screams in anguish as Missy uses the "Take a Bullet" rule to leap between her father and her lover, the handsome cattle rustler!
July 26, 2003
Houston, Texas -- We finally posted a complete Game Report for the Little Wars playtest we ran back in July. Sorry for the delay, folks, but we've been busy working on the rules and have let some of the playtest notes slide for a while. Slowly, but surely, we'll get back on track and complete the write ups.
For the full playtest report (with more photos),
visit the Playtest Roundup Page in The Lone Star Saloon >>