The dead will walk and lead will fly
as the Kingwood Nugamers get Gutshot
March 8, 2006 -- Kingwood, Texas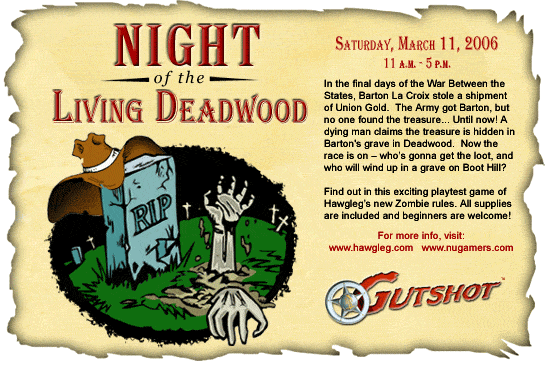 Revenge from beyond the grave will be the theme as, once more, Gutshot co-creator Mike Mitchell takes the trail ride up to visit the Nugamers club.
"It's really not all that far," Mitchell said of the drive to the small community just north of Houston. "Especially since I live so far north, myself. It's just that I seldom go up Hwy 59, so it seems longer. Still, it's a drive well worth it to visit the Nugamers."

Last year's game report is online

Game creators Mitchell and Mike Murphy had visited the club last May and ran two games to an excited group of young gamers.

"We had a blast with them," Mitchell said of last year's games. "I'm really looking forward to seeing what they make of this little adventure I've been working on."

"Grave Consequences, or Night of the Living Deadwood" is a departure from last year's standard shoot-em-up game of "Last Man Standing." This adventure brings horror elements into the game, specifically undead cowboys and a ghost defending his treasure.
"When Murphy and I created this game, we never intended to bring in zombie and other 'Deadlands-type stuff' into the game. However, last year Pat Crowley suggested a title for a Halloween adventure that was just too good to pass up: 'Night of the Living Deadwood.' The moment I heard it I realized that this was something I just had to do ," Mitchell said.
With a strong title to guide them, Mitchell contacted long-time friend and Posse Deputy Paul Mauer and quickly banged out a basic plot for the game which included lost gold and a buried treasure.
The Story of Barton La Croix
It seems that in the final days of the War Between the States, Old Barton La Croix and his gang stole a shipment of Union Gold. The Army got Barton, but never found the treasure, which has remained lost until now. Just a few days ago, you were cooling your heels in a jail cell when an old drunk swapped yer last gulp of whiskey for an incredible secret. The old coot claimed to be the last surviving member of Old Barton's gang, and he revealed to you the location of the treasure: it's hidden in Barton's grave on Boot Hill. The story is too incredible to be true, impossible to ignore. Unfortunately, in the next cell a member of a rival gang overheard everything, and he's gonna saddle up his gang and try to get to the loot before you do! The wind is howling in the dark of the night as both gangs arrive at Boot Hill. They must search for Barton's grave and fight off the other gang to see who will be rich, and who will be left to rot in a shallow grave on Boot Hill?
This will be the third public playtest for this adventure and Mitchell said he's hoping it will "be the charm" and that most of the major gameplay issues can be resolved.
"I've gotten really great feedback from the previous games and we've made significant adjustments to the rules, modifiers, and other factors that help make a good Gutshot adventure," Mitchell said. "I think we're getting really close to when I can release this to other playtest groups and see what they think of it."

Right now, the plan is to release this as a single Halloween adventure. However, Mitchell said, those plans could change.

"Nothing at all is definite," he said, "but Murph, Paul, and I are discussing whether or not there is sufficient interest in this to warrant devoting the resources into developing this as a full product. Time will tell."