Pistol-packin' preacher & the LTL Ladies
aim to dry up Rush Creek
Fourth Showdowns & Shootouts adventure released
Aug. 15, 2007 -- Houston, Texas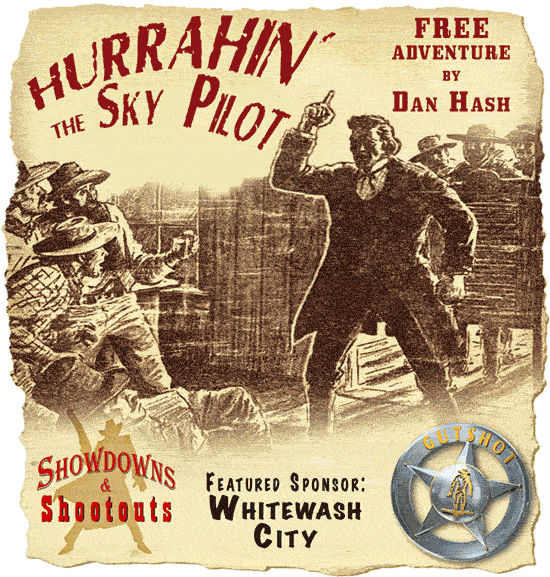 Wherein we learn how the villainous Deman Jones, owner of the notorious Longhorn Saloon conspired with Curly Bob Bodacious to run the new temperance preaching parson of the Rush Creek Gospel Church out of town, and the violent reaction of the Ladies Temperance League all on a Sunday morning!
Rush Creek must run dry!
"It couldn't happen to a better man," said Gutshot co-creator Mike Mitchell. "Our good buddy Dan Hash penned the fourth adventure selected in our Showdowns & Shootouts contest -- and it's a doozy!"
Dan, who goes by the handle "Judge Roy Bean" in the Hawgleg forums, was pleased as punch when he heard the good news.
"This looks great.  I like what you have done with my entry.  I am proud to have my name on this," Dan said. "My wife is making sure the kids are out of the room when I see the finished product… she's afraid my chest'll swell up and my buttons'll pop off and blind someone.  Really I hope everyone can have fun with the story."
Once again, the judges were impressed by the classic Western elements present in the submission, and even more so by the unconventional direction the story took by having four teams with conflicting goals at play during the same game.
"The outlaws want to drive the preacher out of town, and this preacher is more than willing to fight them. But then we've got the Ladies Temperance League on the warpath inside the saloon trying to wreck everything.  So do the outlaws go to kill the preacher or fight to save their livelihood? And then there's the Sheriff who just wants to keep law and order," Mitchell said. "This is one of those games you could play a dozen times and never predict what the players will choose to do."
As with the previous adventure, this one has been back-dated to last month.  This delay was caused by Mitchell's hospitalization in June and the Hawgleg Posse is still trying to catch up.
As the winner for July, Dan will be sent a limited edition "La Vaquera" miniature, and will be eligible to win his share of more than $500 in prizes.  The contest runs through the end of 2007 and is still accepting contributions.  Visit http://www.hawgleg.com/2007_contest.asp for more details.
Click here to download "Hurrahin' the Sky-Pilot."