Gutshot nominated for 2006 Origins Award
March 20, 2006 -- Las Vegas, Nevada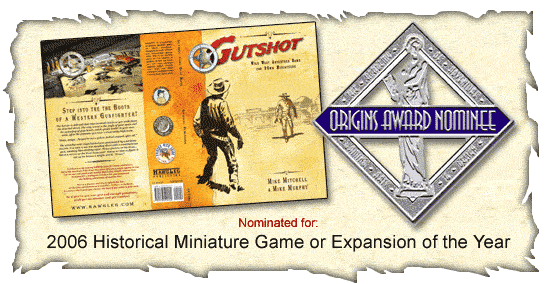 Hawgleg Publishing is honored to announce that Gutshot is a 2006 Origins Award Nominee for Historical Miniature Game or Expansion of the Year. To celebrate, Hawgleg is extending its free shipping offer through April 15, 2006 (see details below).
"I'm so excited that I honestly am finding it hard to put it into words," said Gutshot co-creator Mike Mitchell. "I am so PUMPED UP about this! I mean, when you pour your heart and soul into your first published game – all those 18+ hour days writing, gaming, and just trying to get it right… and then to have your fellow game designers pat you on the back and say, 'Hey boys, yuh done good.' I mean, it really chokes me up!"
Mitchell, along with help from his wife, Donna (who helped stuff envelopes and ensure that each submission packet was complete), submitted Gutshot back in January. And then the waiting began.
"I won't lie," Mitchell said. "This is something I really wanted for us and I had read that the nominees were going to be announced at the GAMA trade show, which was this past weekend. Friday I must have checked www.gamingreport.com and theminiaturespage.com a dozen times looking for some sort of announcement! I finally did a search on the word 'Gutshot' and just sat there in stunned silence when I saw the headline in front of me."
The headline was simple: "ORIGINS Awards 2006 Nominees List."
Mitchell caught his breath and slowly clicked on the link, and then began scrolling down the page until he saw the word "Gutshot" under the category: Nominees for Historical Miniature Game or Expansion of the Year: (Historical College).
Nominees for Historical Miniature Game or Expansion of the Year: (Historical College)


Avanti Savoia Flames of War Expansion by Battlefront
Bloody Picnic by Partizan Press
Gutshot by Hawgleg
Nuts by Two Hour Wargames
Strandhogg by Odin's Press
The statement in the story itself was very simple: "The Academy of Adventure Gaming Arts and Design proudly announces the nominees for the 32nd annual Origins Awards. Academy members selected a remarkable impressive collection of nominees from an extensive range of submissions."
"It actually took a few seconds for it to sink in," Mitchell said. "I mean, I really did want this, and there it was. I sat there for a few minutes and just kept reading it to make sure it was real. Then I walked into the other room and my wife looked at me and asked, 'What are you smiling so big about?' When I told her she squealed with delight and jumped up to hug me."
Mitchell promptly called his partners who were thrilled to hear the news.
"The all-night editing sessions were obviously well worth it," said Gutshot Posse Leader Paul Mauer. Paul was in charge of the proofing and editing, often pulling long hours at the last minute tracking down errors and fixing problems.
Due to his commitments at work and college, it actually took a few days for the news to reach game co-creator Mike Murphy. When he heard the news he shouted out with excitement.
"This is simply amazing. Considering that this is our first product that we have ever released, I'm just overwhelmed at the backing and the support that it has received," he said. "It took us a while to get it up and running, due to moves, work, Tropical Storms, and a slew of other "Real life" issues, but we got it out and in doing so, we've watched it take off like a rocket!"
Mitchell echoed those thoughts.
"We are very proud of the work we put into Gutshot, particularly because we accomplished what we originally set out to do: create a game that WE would want to play, and do it well enough so that others would enjoy it too. And this nomination is just icing on the cake for us… especially for our first published game."
Hawgleg extends FREE SHIPPING offer!
Get Gutshot for only$20!
To celebrate the great news, we're extending our FREE SHIPPING offer through April 15, 2006. This offer is valid for all orders placed in the USA that are paid for PayPal or check/money order. Click here for instructions and more information.
Mitchell sighed and added, "You know, my wife and I watched the Oscars a few weeks ago and, I can honestly say, for the first time I personally understand what the actors and directors all mean about it being 'an honor just to be nominated.' When I look at the other great games in our category – like Ed Teixerira's WWII game, NUTS! – I'm amazed and honored to think that other people think we belong there with them. This is just an awesome experience!"
And, in keeping with the Oscars theme, both Mitchell and Murphy had a long list of people to thank.
"Some of the other people that need a good pat on the back for this are Paul Mauer, Jim Skipper, Tony Rocha and his crew from Little Wars, Joe Sudek, Jason Coffey, and the other Las Vegas Historical Gamers. It was through their support and desire to see it through that has gotten us to where we are today," Murphy said.
Mitchell expressed his gratitude to his wife, friends, and the gaming community for their support.
"My wife, Donna, is really one of the most understanding 'gaming widows' on the planet, and I couldn't have accomplished this without her support," Mitchell said. "Likewise, without Paul pulling those all-nighters and being there to keep us motivated, there is no way we would have finished this. And tha playtesters were some of the best guys and gals on the planet! The Midnight Riders, the Redleg Gang, the Little Warriors, and the Owlcon Owlhoots… man this wouldn't have gotten off the ground at all without their support. And ditto for the people over at theminiaturespage.com. Everyone has just been awesome in their support of this little game from Texas. We can't possibly thank them enough."
The Origins of the Award
The Origins Awards are sponsored by the Academy of Adventure Game Art & Design (AAGAD), and many people consider the award to be most prestigious within the industry. It is often called the "Oscar of gaming awards," both for its importance to the industry, and due to its longevity. Another similarity between the AAGAD and the Academy of Motion Picture Arts and Sciences (who sponsor the Oscars for motion picture excellence) is that AAGA members are gaming industry professionals.
According to the Academy's Website:
"Fellows of the Academy of Adventure Gaming Arts and Design (AAGAD) are published game designers, writers, artists, and other game creators. Any person with a verifiable published credit for writing, design, sculpting, illustration, graphic design, editing, line development, or brand management in three or more gaming products is eligible for admission to the Academy.
"Every fall, publishers and creators submit their best products from the past year as eligible in a large variety of categories. The members of the Academy then vote on which products should be named Origins Award Nominees. The top five vote-getters in each college are placed on the final ballot."
The final award will be announced at the Origins gaming convention in Columbus, Ohio, June 29 – July 2, 2006.
For more information about AAGAD, visit their Website: www.originsgames.com/awards
Visit the gamingreport.com for a complete list of the Origins Award nominees for 2006: www.gamingreport.com/article.php?sid=20532