Get Gutshot at Enfilade!
Go West young man... VERY far West!
May 22, 2009 -- Olympia, WA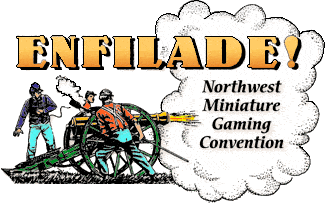 Saddle up for a weekend of rough-n-ready fun at the annual Enfilade game convention! Our partner (and keeper of the peace), Paul "Mad Dog" Mauer will be making the trek to Olympia, Washington on Saturday to help ya'll get a heapin' helpin' of Wild West action!

There, he'll be hookin' up with our old saddle pal, Eric Hotz (of Whitewash City fame), to run a rousing game of Gutshot! The game is scheduled from 7 p.m. – 11 p.m., Saturday, May 23, 2009.

Paul said that he will be packing enough miniatures and terrain to run:

"Eric and I have not decided what adventure we will run," Paul said. "We will choose one when we see how many people show up for the game."

The game is open to all players, including supervised children and teens. All miniatures, dice and supplies will be provided: All you need to bring is a good attitude and enough gumption to get Gutshot!
 




Enfilade is the annual gaming convention of the Northwest Historical Miniature Gaming Society. It will be held Memorial Day Weekend, May 22-24, 2009 at the Red Lion Hotel in Olympia, Washington.

Please vsit their site
for more info.

 

"Enfilade! 2009 features the same great combination of miniatures events, dealers, and camaraderie as Enfilades past. There are six gaming periods through the weekend: two on Friday, three on Saturday, and one on Sunday—with open gaming for the remainder of Sunday until it's time to pack up and go home," states the game announcement on the NHMGS Web site.