Arnica Pre-Release Bonanza Sale!
Buy today and save up to 25% on your next order
Aug. 12, 2009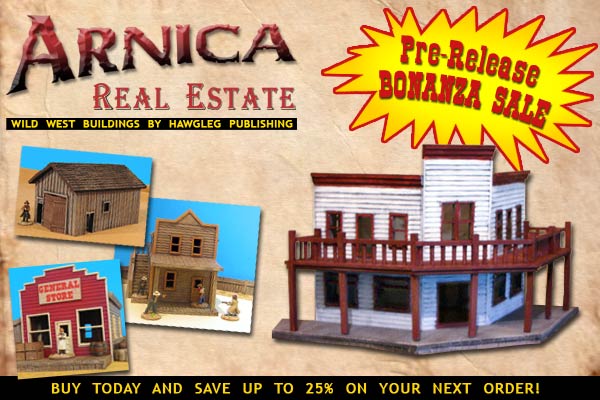 After more than a year of preparation, the land boom is ready to explode as Arnica Montana Real Estate returns to the marketplace with Hawgleg Publishing at the helm.  And to sweeten the deal, them Hawgleg boys are offering a sale guaranteed to knock yer 10-gallon hats off yer heads!
In 2008, the popular line of 25mm-30mm Wild West buildings shut its doors while owner Mike McGraw transferred the property to Hawgleg Publishing, creators of the Origins Award winning Western game, Gutshot. After a year of development and knowledge transfer, the Arnica doors are ready to swing open again.
Right now the Hawgleg team is setting up equipment, creating new molds and updating the Website. Some of the buildings (like the General Store and Laundry) are ready to go, whereas others (like the famous Five-Sided Saloon) are getting new molds poured with the company's state-of-the-art vacuum chamber technology.
"We are working to create a manufacturing line from scratch," said Arnica Production Manager Paul Mauer. "Our goal is to be up and running as soon as possible. We want to fill orders quickly with high-quality products."
As Hawgleg ramps up to bring Arnica's full line of 31 buildings and accessories into production, it is accepting a limited number of orders before opening the doors to the general public.
In the first phase of bringing the buildings back, Hawgleg is focusing on its Western Collection of 16 buildings and 6 add-on kits. These are considered the core of the Arnica collection. The Adobe Collection features 9 buildings and they will be made available after the core collection is finished.
Buy now, save up to 25% later
"We know that Arnica has been off the market for a long time and that there are a lot of people itching to get their hands on these great buildings again," said Hawgleg co-founder Mike Mitchell. "That's why we're offering this special Pre-Release Bonanza sale."
The Pre-Release Bonanza Sale is very simple and open to everyone worldwide (a few restrictions apply, so check the Arnica Website for details).  Place an order now with PayPal, and you earn a discount on your next order, up to 25% off. Review the details below:
All orders must be pre-approved by Hawgleg Publishing. This usually requires a few e-mails to discuss the buildings you want to order and their availability (as noted above, some molds are ready now, others are still being made). Additionally, we need to discuss postage (all shipping is via USPS).
All orders must be paid by PayPal.
For every $50 you spend now, you earn 5% off your next order with Hawgleg Publishing (see below).
All Pre-Release orders will earn at least 5% off their next order.
Orders may take 4-6 weeks to fill.
Orders may be split for shipping (at no additional charge to you).
All buildings must be from the Arnica Western Collection (see our shopping cart at the Arnica Website).
Once you make your selections, use the Contact Us form at the site to tell us what you're interested in buying. We'll contact you with instructions on how to proceed.
This sale will end at the end of August 2009.
Spend Now
Discount on
next order
All orders
5%
$100
10%
$150
15%
$200
20%
$250 - up
25%
Discount on your next order may be applied to a maximum total order of $500 (ie. Total value of discount may not exceed $125 USD. Valid on product only.) Discount may not be applied to postage or Texas sales tax.
We're not bean-counting jerks
To participate in this sale, you need to visit www.arnicarealestate.com and review the items in the Western Collection of the shopping cart/catalog. Pick out a few things you can't live without, then use the "Contact Us" link at the Arnica Website to tell us what you're interested in. We'll respond and discuss which molds are ready now, which are next on our schedule, and frankly tell which items are next in our production queue. If you want to change a few items, or wait until your first choices are ready, we'll work with you (and discuss your shipping options). Then we'll send you a PayPal money request and you'll be added to our production queue.
Everyone who participates in this pre-sale event will receive at least 5% off their next order (yes, even if you spend $10, you'll earn 5% off your next order). For every $50 you spend over $100, you'll receive a 5% additional discount off your next order, to a maximum of 25% off a maximum order of $500.
"And we're not a bunch of bean-counting jerks. If you spend $95, we'll give you the whole 10% discount," Mitchell explained. "Heck, if you spend $88 and suck up a lot, we'll probably give you the whole discount. That's one of the advantages of working out the order with us beforehand, rather than leaving it to some stinking computer to handle the math for us."

Once your order is placed, by the way, the Hawgleg team will keep you in the loop with e-mail announcements and private links to photos featuring your orders in progress.

"These first orders are important to us," Paul said. "And we want to keep you in the loop as we fill them."

By the way, pardners, if you've already placed an order with us, don't fret none. You'll get the same discount as all these newcomers.

Check yer e-mail, amigos.
Shoot the early bird
"The early bird gets the worm, which would be nice if gamers liked worms. But, if you're like me, you like saving money on stuff you were going to buy anyway, which is why this sale is so utterly awesome," Mitchell said. "In fact, if this sale doesn't give you tingles, then rush to a doctor and have your blood pressure checked – you may already be dead."
Wanted dead or alive, this sale is designed to satisfy the fans of Arnica Montana who just can't wait to get these great buildings on their game table as soon as possible.  The sale is also designed to help people who are ready to jump the gun.
"All the prices listed right now in the Arnica catalog are subject to change," Paul said. "We think the prices are correct. But they might change once we start pouring the buildings and get exact figures on how much resin they take to make. If the prices go down, we will refund the money to the pre-sale customers. But if they go up, we won't charge you more. The pre-sale prices are guaranteed for this sale. And that goes for the postage, too, if we choose to split orders and ship in multiple batches."
So, experience the real estate explosion now, pilgrim, and make the move to Arnica Montanta!







To participate in the Pre-Release Bonanza Sale and for a full listing of the Arnica catalog (plus important details like shipping costs), visit www.arnicarealestate.com.