The Dead Walk at OwlCon XXX
Mitchell runs 2 games of 'Deadwood,'
Debutes Saloon Showdown card game
Jan. 23, 2011 -- Houston, Texas
It's that time again, hombres!

Time fer Hawgleg co-owner Mike Mitchell to make his annual trek over to Rice University for OwlCon, Houston's foremost (and longest running) game convention.

Mitchell will be running three games this year: two sessions of Gutshot: Night of the Living Deadwood, and one session devoted to playtesting and debuting a new card game: Saloon Showdown.

"I will be testing out new rules for the Deadwood material," Mitchell said. "Specifically, some new tables for spawning new zombies. I will also be testing two of the new mystic powers. If all goes well, I'm hoping we'll sort out some of the final issues with the game so we can complete it and bring it to print later this year, or by next OwlCon at the latest."

Mitchell wil be running games on Friday and Saturday night. Right now, the Friday night game is full: 8 people have pre-registered for it. There are slots left open for the Saturday night game, however. (See below for full schedule details.)

"This will be my 12th consecutive year to attend this convention, and I'm excited to be seeing my old friends there, and to meet some new one, as well."
Because of the game schedule, and the need to retool some of the molds for Arnica Real Estate, Hawgleg will not have a booth in the dealer's room this year.
"We will probably have a booth at the convention next year," said Gutshot partner Paul Mauer. "And should even have new product for release at that time."
Get ready for Saloon Showdown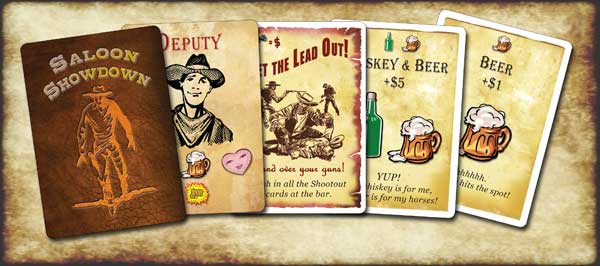 This year also features the convention premier of Hawgleg's first card game, Saloon Showdown. Mitchell created the initial game a few years ago and has been playtesting it in Houston at a variety of game groups and Meet-Ups.
"I've been nurturing this game for a while now in numerous playtests at private parties and with groups like the North Houston Boardgamers to work out the kinks and create a high-quality Western card game. OwlCon will be our first public convention appearance and I'm looking forward to giving the public a taste of things to come."
The game only takes about 45-60 minutes to play, so Mitchell expects to run three or four games during the four-hour time block scheduled during the convention. So, even if the official sign-in sheet says the game is full, come by and see if we there is an open seat. There will be a sign-in sheet and a sign posting the start times of the individual games.
"Saloon Showdown is a light-hearted card game set in a Wild West saloon on a Friday night. It's got all the characters you'd expect to be there: outlaws, cowboys, drifters, miners, deputies and gunfighters. There's also some gents there who want to stifle the fun: the Sheriff, the marshal, the judge and even the preacher are going to show up to help keep a lid on things. All in all, it's the most fun you can have at a saloon without getting tossed through a plate glass window... or waking up with a hangover," Mitchell said.
Saloon Showdown is in the final stages of development, and as such will not be for sale at the convention.
"Honestly, we're still looking into the details on getting this printed," Paul said. "This isn't just your standard 52-card deck with cowboys pasted on them. This is something really cool and different."
OwlCon Game Schedule
Gutshot: Night of the Living Deadwood
Fri., Jan. 28 @ 8 pm & Sat., Jan. 29 @ 8 pm
Things ain't looking good in Dodge City: Pale, shambling strangers are wandering the streets at night and the locals are vanishing one by one. Marshal Dillon and Chester have also vanished, leaving Miss Kitty alone in her saloon trying to protect a handful of women and children. You and your gang have answered her desperate plea for help, but can you gun-happy heroes survive the night when the dead hordes rise from their graves in boot hill, hungry for human flesh? Visit hawgleg.com for more.
Saloon Showdown
Sat., Jan. 29 @ 3 pm
(Games should start on the hour, so visit us to see if we have open seats)
It's Friday night in Miss Kitka's Saloon, and all the usual folks are coming in for drinks, cards, and maybe to talk with a purty lady. Can y'all keep the customers happy and earn the most money to win? Join Origins Award Winning game creator Mike Mitchell for a fun preview of his upcoming card game. We'll probably have enough time to play 2 or 3 games during this time, so feel free to mosey on by any time to see if we have an open seat. Prizes and snacks will be provided.
Visit www.owlcon.com for more info.