Hawgleg nabs license deal
for "Brokeback Mountain" game!
April Fools!
April 1, 2006 -- Houston, Texas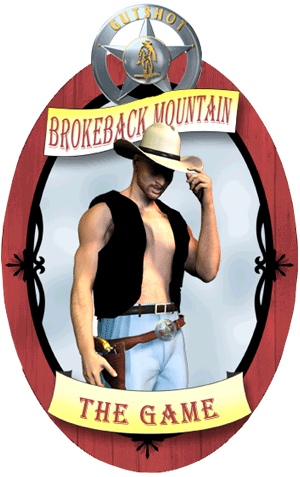 Hawgleg Publishing is out and ready to shout the news that they beat off all the competition and have been awarded the licensing deal to produce: Brokeback Mountain: The Game.
Competition was fierce as the small up-and-coming game company managed to outride the big boys like Hasbro, Wizards of the Coast, Milton Bradley, and even Ed, the Two-Hour Wargames guy.
"We needed someone who could ride longer than two-hours," said Brokeback Mountain director, Ang Lee. "What Ed had to show us was very impressive, but when we saw what Mike and Mike had to bring to the table… well, let's just say that our jaws fell open in anticipation of what they could deliver."
When asked what other qualifications helped sway his decision, Lee practically gushed with enthusiasm.
"Let's just say that one of them is an expert in the Wild West, and the other is an expert in., uh… 'other' areas. Combined, the two are the perfect development team to do justice to this project."
Gutshot co-creator Mike Mitchell agreed. Wearing a stunning set of shiny leather chaps, matching boots, and hat, he admitted that he and his partner of 11 years were huge fans of the movie and couldn't wait to get "down-n-dirty" working to bring the subtle nuances of this game to fruit.
"This whole year has been a rollercoaster ride for us," Mitchell said wiping his brow with a stunning apricot silk bandana by Vera Wang. "First we get nominated for an Origins award, and now this! Just when we thought we'd peaked and couldn't get any more excited, something happens to make it even bigger!"
To make a Hallmark Moment of the game's release, Hawgleg Publishing will work with Scale Creep Miniatures to release a groundbreaking line of miniatures based on the game. Since everything is bigger in Texas, the figures will be at 32mm scale and feature a special "surprise" for gamers.
"This is definitely a first," said Mark Severin of Scale Creep Miniatures. "I've never seen a historical miniature that actually had removable clothing. It's really very… unique. I mean, chaps that come off? Wow. And some of the poses! I'm just stunned by it all."
Mitchell smiled when he recalled Mark's initial reluctance.
"Yeah, Mark was hesitant at first, but after a few beers and some gentle persuasion, he decided to get behind us and give it his all!" Mitchell said. "I'm so glad that he decided to convert to our cause!"




Brokeback Mountain: The Game will be released in September of the year in which pigs fly and rivers flow upstream. In other words… this whole story is one big April Fools Joke! Have a good one, folks.