New Book Progress Log Online
Gutshot: Showdowns & Shootouts Adventures Back on Track
April 25, 2014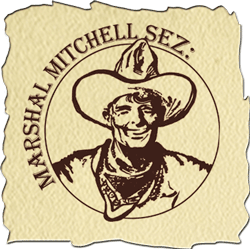 A FEW THOUGHTS FROM MIKE MITCHELL:
Time is just a no-good, dirty sneak-thief. One minute you're working on a book. The next, you've set it aside to work on a different project. And then BANG! It's more than NINE MONTHS later before you realize that you haven't worked on that project.
That's what's happened while working on the printed book for Gutshot: Showdowns & Shootouts Adventures. Yesterday I cracked open the work folder on my computer and realized that it's been about nine months since I last worked on it. I was also surprised to find out how far I had gotten on the project.
I might only be about one-third finished with it, but that amount of work included a lot of heavy design and production issues. In other words, the work I had completed is the equivalent of drawing the blueprints, pouring the foundation, and putting up the frame for the lower floor. In other words, some fairly impressive stuff.
So I sat down and put in about four hours into dumping the original S&S adventure content into the new pages. That put my completion ratio to about 40%. And that got me thinking... it's time to commit to getting this book finished.
And that's just what I'm going to do. I'm going to commit to getting this danged book out, once and for all. And I'm going to do it soon. For the rest of April, I'm committed to spend at least one hour per day working on the S&S book. After that, we'll see if I can continue the commitment and work toward a goal of releasing the PDF version of the book by the end of May. I won't commit to a release date for the printed version, at least not until I can check with our printers and confirm some numbers. But the PDF should be ready and available for online purchase by the end of May.
To track my commitment to this project, I'm going to create a Progress Log and put it online here at the Hawgleg Website. As time permits, I'll also add some production notes, images, pages, and so on to give you a behind-the-scenes look at how a book like this comes together.
The PRODUCTION LOG can be found here.
Wish me luck, one and all. This is going to be a quick ride, but I think it's going to be one that pays off in the end -- for all of us.
By the way, in case you're wondering why I keep saying "I" and "me," instead of "we" and including Murphy and Paul... well, it's because it's all on my head at the moment. You see, this long delay is my fault, not theirs. They did their part by helping to run the contest, select the adventures, and Paul helped by proofing the adventures. They'll be ready to help out again when the book is more completed than it is now, but at the moment, they are just waiting for me to get my part done so they can do theirs.