S&S Book Progress Update
Slow-n-steady wins the race... we hope!
June 22, 2014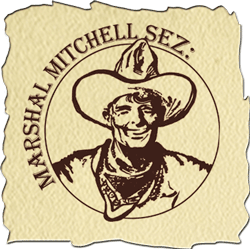 So, May didn't happen. Nor did June. And, if I'm honest, July is tentative.
May got off track because most of my free time was spent on a gaming project being developed by our partner, Paul "Mad Dog" Mauer. If it ever comes to fruition, you'll be the first to know... and so will the rest of the country. Yup, it's that big. And that mysterious.
I actually got a lot of work done in June, but not enough to finish the book. Right now I can't tell if I've misjudged the size of the project, or am just getting mired down in project scope creep. By that, I mean I keep adding lots of little touches here and there that, perhaps, are not needed -- but do add value to the final delivered book. It's probably a combination of the two factors.
So, this little missive is just here to let you know that I'm still hard at work on our next book, Gutshot: Showdowns & Shootouts Adventures. In fact, I think it's looking pretty darned good.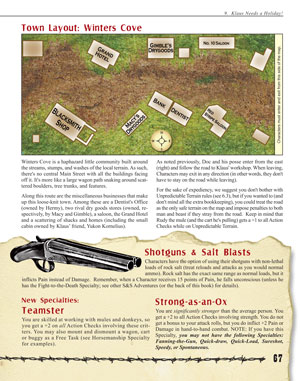 Here's a sample page from one the ninth adventure, "Klaus Needs a Holiday." If you've got really sharp eyes (and a good memory, you might notice that it's got a new sawed-off shotgun drawing. I never liked the old one, so this was definitely an opportunity to upgrade that piece of art a little. Other improvements include tweaks to the maps (and one adventure is even getting a new map).
Now, you might be wondering why I'm reformatting the adventures. After all, they looked pretty good the first time around. The answer is simple -- those adventures were formatted for you to print out on your home printer. For that reason, backgrounds and color were kept to a minimum. This time, however, we're doing a PDF and a book. The PDF can have all the color we want, and the book (which will be printed in black & white) will be formatted to take advantage of the larger print area (we can bleed artwork off the pages) and have tighter margins. In short, it's going to look a little slicker than the print-at-home pages.
Right now, I'm aiming to get the PDF out in August. Whether it's the beginning or end of August remains to be seen.
I'm still keeping a log of my work on this book.
If you're interested, you can find it here: