Hawgleg Sells Out!
Licenses Gutshot to Hasbro for use in SAWBONES game
April 1, 2015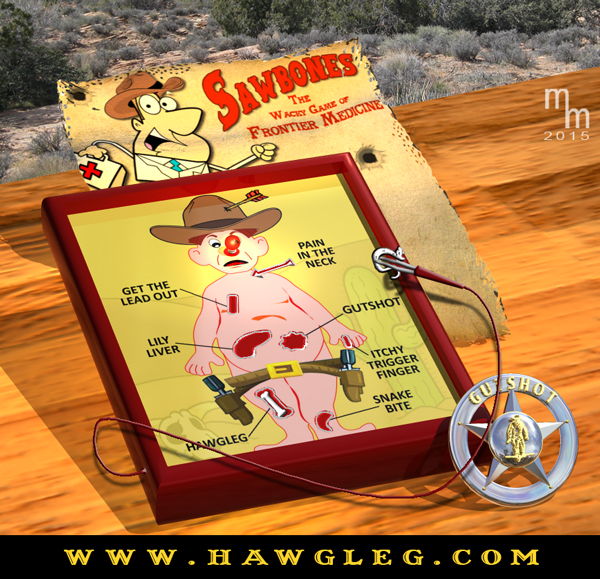 When the Hawgleg Posse first got the call, they reckoned it was a hoax.
"Delete that message," said Gutshot co-creator Mike Murphy. It's just another scam like those Bongolesian Bit Coins or Nigerian NASCAR collector cups. It's just too good to be true."
But it was true, saddle pals, and that's why, for the first time ever, Hawgleg Publishing is proud to announce that it's selling out! Yup, Hasbro has licensed the GUTSHOT name and imagery for use on some of their famous games, starting with the classic game of hand-eye coordination and malpractice suits, Operation.
The new Gutshot-inspired version will be called "Sawbones: The Wacky Game of Frontier Medicine."
"I've always enjoyed playing doctor," said Hawgleg co-founder Mike Mitchell. "But this time I'm actually getting paid for it!"
The trio of partners – Mitchell, Murphy & Mauer – worked closely with the Hasbro team to create a limited prototype of the new game, and overall are very pleased with the results, but with a few reservations.
 


"When I first heard of it, I asked if there was going to be a Marshal Dillon version and a Miss Kitty version," Paul "Mad Dog" Mauer said. "The guys seemed to like the idea."

True enough, pilgrims, but while discussing the possibilities of doing a casting call for a model to play Miss Kitty, Mrs. Murphy and Mrs. Mitchell fetched a rolling pin and cast iron skillet to aid in their "negotiations" with their husbands. The boys immediately relented on Paul's idea and decided to stick to a single – very male – figure for the game.

"Yup," Murphy said. "We decided it was best to err on the side of discretion on the 'Miss Kitty' matter.

Mitchell was more direct. "I'm a fan of keeping my scalp on my head. And you know the old saying, 'Happy wife, LONGER life!' At least that's the way I've heard it told!"
In addition to telling tales, this here is another one, folks.  Yup, it's April Fool's Day again! Hope you have a great one!