Hawgleg Publishing launches
crowdfunding campaign for DigiMinis
'We only need $17 mil to make this work'
April 1, 2016 -- Houston, TX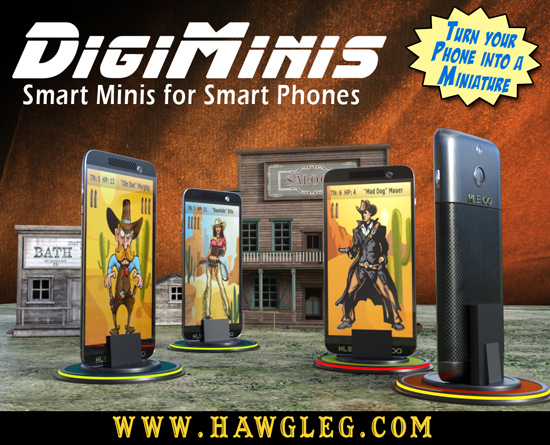 Hawgleg Publishing – the fine folks who brought you chocolate dice and lead-filled whiskey – is proud to announce its latest venture: A crowd-funding campaign for a gaming accessory that will revolutionize gaming and bring it kicking and screaming into the 21st Century.
"I find it amazing that we're still playing miniatures games pretty much the same way that H.G. Wells played them: with small pieces of painted metal and dice," said Hawgleg co-founder Michael T. Murphy. "There are a few nuances to modern gaming, but for all intents and purposes, it hasn't changed since the publication of Little Wars in 1913."
Well, it took 103 years, but there's finally something new in gaming, and if you crack open your piggy bank, you could be the first kid on your block with a brand-new DigiMini! The DigiMini is a radical new concept in tabletop gaming that converts your smart phone into a fully functional miniature. The DigiMini contains two parts:
Part 1: A cutting-edge software application that puts a state-of-the-art, high resolution graphic of your miniature right on your screen. And through the sheer genius of the computer age, it includes text for your character's name, stats and even how much ammo you have left! Part 2: The DigiMini component, which is a weighted base to which you clamp your cell phone so it will stand upright. You may then slide it around the table as you would any other miniature.
The heart of the DigiMini is the ground-breaking DigiMini Base. This base doubles as a charging station, and includes multiple LED lights to convey vital in-game information: The top disc changes color to indicate your DigiMini's movement rate: Blue for walking, Yellow for Trotting, and Red for running. The light ring that surrounds the base changes color to indicate the miniature's health status: Green for good/no injuries, Yellow for Moderate damage, and Red for Severe damage.
"I know when I get going, I like to go all night long," said Hawgleg co-founder Mike Mitchell. "The last thing I need to spoil my fun and games is a dead battery. So we built one right into the base. Now I can get juiced up and the fun will last as long as I can!"
The charger is a 10,000 mAh battery and comes equipped with a standard micro USB port, and adapters for iPhones, Blackberries, and even the USB-Bwana plug that is proprietary to the phone systems in Bongolesia.
"By using an older battery technology that was taken from decommissioned Soviet nuclear submarines, we were able to get the extra weight needed to ensure that the DigiMini base will provide all the stability you need to keep your phone propped up during the game," Murphy said, even as he declined to explain exactly how he got his hands on Soviet submarine batteries.
"The less we know about that, the better it will be for all of us," said Hawgleg silent partner Paul Mauer.
The project is currently in prototype phase, and the guys need additional funding to get it off the ground. They just launched a crowdfunding campaign on CritStarter.con (the acclaimed site for gaming start-ups). They are seeking a paltry $17 million dollars in seed money to start the development process, which they will pursue from their new chateau headquarters on a Caribbean island they haven't bought yet.
"We only need 17 backers to pony up a million bucks each," Mitchell said enthusiastically. "And if one Gutshot fan wants to pay the entire amount, we have a special stretch goal for him: We'll hire an artist to put his face on one of the digital miniatures."
Paul "Mad Dog" Mauer agreed. "If that's not an incentive to open your wallet and pledge a million dollars, I don't know what is."
When the money comes in, the guys will get right to work and should have something ready to ship in about 10 years. Possibly more. Possibly LOTS more, because this is another fake product in yet another silly April Fool's Day story by Hawgleg Publishing. Have a great day, ya'll!