Hawgleg takes the gold at ORIGINS
Gutshot awarded Historical Miniatures Game of the Year!
June 29, 2006 -- Columbus, Ohio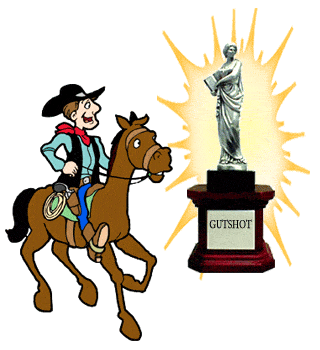 Yee-haw!
It is with great pride that we announce that Gutshot has been awarded the 2006 Origins Award for Historical Miniatures Game of the Year.
Both game creators -- Mike Mitchell and Mike Murphy (proudly sporting their Stetsons) - were present to accept the award. Mitchell was accompanied by his wife, Donna.
"I can't tell you how much this honor means to us," Mitchell said. "We've all really poured our hearts and souls into Gutshot and its reception from gamers and retailers has been nothing short of miraculous."
Murphy also expressed his gratitude to the many fans who have stepped up to the table to throw dice with us and extended a special thanks to the retailers and gamers who helped make this possible.
Both also wanted to express their thanks to Dan Frohlich for running five games of Gutshot at the convention... including a midnight "pick-up" game with the gang from The Miniatures Page (TMP).
"Dan went above and beyond the call of duty," Mitchell said. "We couldn't have done it without him. A longer story is forthcoming," Mitchell added. "There are just so many people we need to thank, but right now we're heading off to the party to celebrate!"
---------------------------
UPDATE (July 3, 2006): Murphy has returned to Las Vegas; Mike and Donna have headed off to Lake Erie in Cleveland to celebrate their Seventh Wedding Anniversary.  They'll return to Houston later this week.