We've gone plum loco!
Free shipping on US orders through Feb. 17, 2007
Jan. 16, 2007 -- Houston, Texas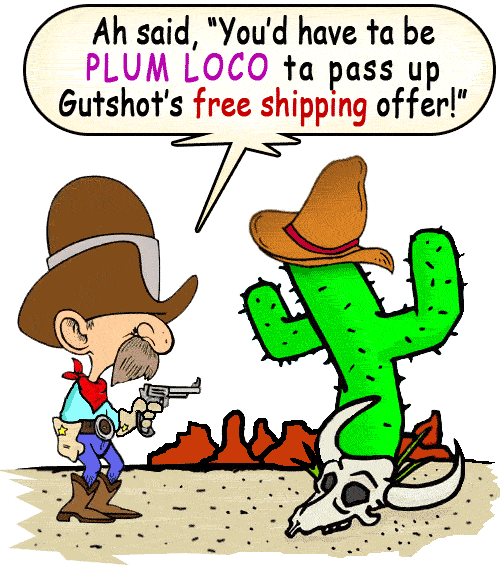 Looks like them boys at Hawgleg Publishing have been sampling the loco weed, pardners! They're offering free shipping on all US orders through Feb. 17, 2007.
"We jest figgered we'd ring in the new year with a little excitement," said Gutshot co-creator Mike Mitchell. "We've got some great things planned for this year, and thought we'd start it off with a bang."
The free shipping offer is valid on:
domestic orders placed until March. 17, 2007
paid via PayPal, check, or money order
shipped to addresses in the United States, or to APO/FPO boxes
"We would just love to extend this offer to our friends up north and overseas," Mitchell said with sigh. "But those danged shipping costs are just too high right now. Also, if you want to order multiple books for your group or club, contact us so we can work out the shipping details for yuh!"
If you place your order through Hawgleg's online shopping cart, please make certain you use the correct link: http://www.hawgleg.com/paypal.asp
UPDATE 3/5/2007: We have extended the deadline through March 17, 2007.