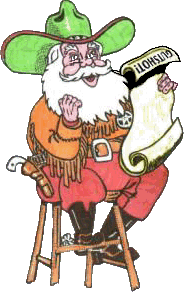 Dec. 12, 2004
NORTH POLE -- Santa's saddling up early this year, and he's filling his bag with goodies from the Gutshot General Store! Yup, it's time for the quarterly Gutshot Giveaway!

If you haven't done so already, mosey over to our Contest Registration Page and sign up for the drawing. On Dec. 19, we'll toss all the registrants' names in a hat (pointy, red, and with furry white trim, as appropriate to the season) and pull out the name of one lucky buckaroo or buckarette.
As with previous contests, the winner will get to pick one item of Gutshot Merchandise from the General Store. The store currently carries T-shirts, baseball caps, mouspads, a Barbeque Apron, a new wall clock, and lots of other items that'll make you happier than a riverboat gambler with three aces up his sleeve!
"We're actually running a few days late this quarter," said Gutshot co-creator Mike Mitchell. "We're VERY busy on something spectacular that will rock 2005!"